Advantage Club
For those members 55 and wiser! Members of the Advantage Club must have at least three active services with the credit union. These services can include checking, direct deposit, share certificates, loans and more. Once registered, Advantage Club members receive bonus rates on share certificates, discounted safe deposit boxes and more. Click Here To Apply! Just mail in or drop off the application at any one of our 6 locations!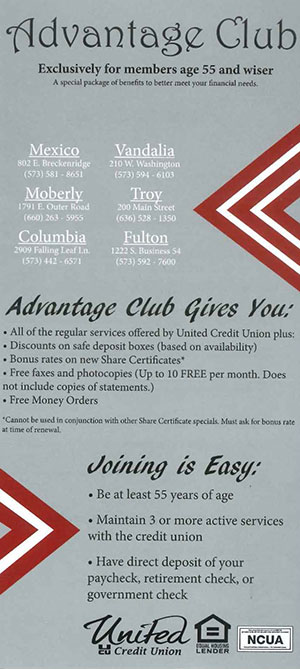 Plan It™: Retire Ready Toolkit
This is a brand new product designed to provide our Advantage Club members with retirement information in a variety of different formats, including articles, audio, calculators, and quick tips. And, not only will you be able to learn about retirement, but you will also be able to put that newfound knowledge to use by building your own personal profile! Check out Plan It™ today!
Advantage Club members may join an e-mail list to learn about special events and other news items from the credit union.
Interested in joining Advantage Club? Contact Member Service today!